Sunday, November 27

Welcome to the First Day of Advent Adventure!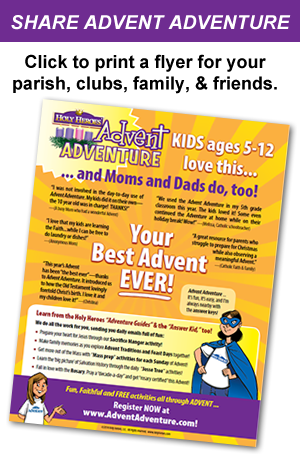 To my children, preparing for the coming of Jesus always seemed like a wonderful game, until one day when my eldest child said to me, "I really don't get this, because Jesus has already come."
Then I realized that I had never explained that we are preparing not only for Jesus' coming at Christmas, but for when He comes again: for when we meet Him at the Second Coming, for when we meet Him face-to-face at death, for when He comes to us in a special way each time we go to Holy Mass.
In fact, our whole lives should be a preparation to meet Jesus, but the Church gives us this wonderful time of Advent to really focus us on the coming of Jesus at Christmas, so we can renew our efforts to understand this incredible love God has for us that He sent His only Son to redeem each of us, individually and personally.
If you haven't watched the "What's New & Tips for Advent Adventure" video yet, take a few minutes to do so here now. NOTE: the video is from last year, but everything it explains applies to this year, too. All that is different is the 2016 book is new, bigger, better -- and tailored to fit every day in THIS YEAR'S Advent!
Holy Heroes Advent Adventure: Day One
The first Sunday of Advent -- the day we light the first purple candle in the Advent wreath. This wreath in a visible place is a great way to keep your family focused on Advent, and there are rituals associated with it that help, too.
In Mass: your parish priest may bless the Advent wreath in your church, or you may come into the church and find it already lit.

We have included in the "printables" for today the blessing for your wreath in your own home from the Book of Blessings approved by the bishops for use in the United States.
We've also included some prayers that we say every night thereafter when we light the wreath.
We also sing a verse of "O Come, O Come, Emmanuel," on most nights after we light the wreath (so the words are also in the "printables").
Ready? This first day, before Advent starts, is focused on providing your children preparatory materials with the real "adventure" beginning in earnest with the email we'll send you for Monday.
Let's go! God bless you and have a blessed Advent.
| | |
| --- | --- |
| | During Advent Adventure, we will learn about the Rosary and pray just a "decade-a-day" of the Joyful Mysteries. We will pray each Joyful Mystery decade several times during Advent. Then, you will get a chance to become "certified" in these mysteries, earning a gold or silver certificate! |