March 29 & 30
WEDNESDAY & THURSDAY

We are at that point in Lent when it seems veeerrrrry long, doesn't it?
In fact, it seems longer than 40 days...
Well, the Holy Heroes Answer Kid can help you think through how to manage it a day-at-a-time...and show you clearly that it is just 40 days of fasting, but it DOES take longer than 40 days to get through it all!
EWTN Global Catholic Radio just notified us that--yet again!--they will broadcast our "Stations of the Cross for Children" WORLDWIDE via radio and shortwave on Good Friday at 2:00 pm Eastern time. We are so honored they have chosen our production to reach so many people with this devotion.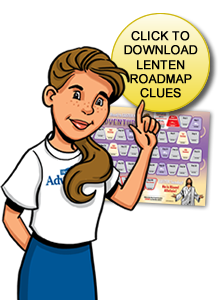 **You can get it NOW before EWTN broadcasts it!**
Get the DOUBLE-LENGTH CD *plus* FREE companion coloring book!
on sale by clicking here.
The audio CD includes BOTH the EWTN "Radio version" plus a second version (with the sung Stabat Mater at every station). AND--while supplies last the companion coloring book--FREE!

Miss a day or just want to go back and review? Use this calendar to jump back to previous Lenten Adventure activity pages.