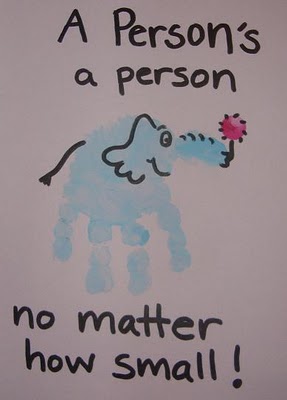 Here are some fun pro-life painting activities:
You can make posters with them, or just paint on pieces of paper to hang up and remind you to pray for the babies this month. All you need is paper, markers, and washable paint.
To make baby footprints, make a fist, and then cover the side of your fist opposite of your thumb with paint. Press this to the paper to make what looks like a footprint, and add the toeprints with your finger.
Dr. Seuss famously wrote, in his book Horton Hears a Who, the phrase "A person's a person, no matter how small!" This phrase has become well-known among pro-lifers, who use it to represent the very small babies in their mothers' wombs, who also deserve life! To make an elephant, like Horton, make a handprint, with your fingers spread apart. Your thumb will become Horton's trunk, while the rest of your fingers are his legs!
Check out Catholic Icing for some other fun handprint ideas!