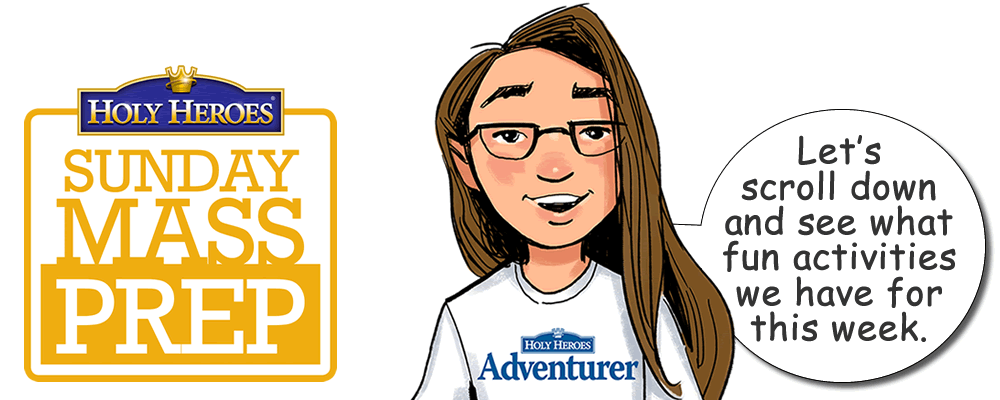 August 15 is the Solemnity of the Assumption! On the Solemnity of the Assumption, we celebrate Jesus raising His mother Mary into Heaven - body and soul. Mary is the Mother of God, whom Jesus saved from all sin, and He also honored her by raising her body up and reuniting it with her soul to be glorified in Heaven. That's called the Assumption of Mary! When we die, we will look forward to the same resurrection of our bodies - but the Mother of God didn't have to wait!
Keep scrolling down to find a fun craft and yummy recipe to help you celebrate.
We won't share your email address with anyone else and you can remove your name from our list at any time.
Supplies
Print - out coloring picture of Mary from The Triumph of Jesus Coloring Book. Click here to print out this picture.
Light-colored craft pom-poms
Crayons, Colored Pencils, or Markers
Glue
Blue construction paper
Cotton balls
Tissue Paper
Glitter glue (optional)
Craft jewels (optional)
Instructions
Print out the picture of the Assumption, color the picture, and cut out the Mary.
Glue the image of Mary onto blue construction paper.
Next, cut out tissue paper into little squares and crumple in the middle to make cherub wings. Glue the middle of the wings around Mary, wherever you want your cherubs to be.
Next, glue some poms-poms into the middle of the wings. The pom-poms will be your cherub heads. You can use gold or silver glitter glue to make a halo around the "cherub heads."
Now, glue on cotton balls underneath and even around Mary. These will be the clouds.
You can now decorate your picture however you want. You could put glitter glue on Mary's halo or the cherubs' wings. Or you could make a border of craft jewels around your picture as a frame. Have fun!
Here is a fun and super-easy recipe we found for the Feast of the Assumption. The Angel Food Cake reminds us of the angels in Heaven, and the berries are blue, for our Blessed Mother. You can even top this cake off with whipped topping, for clouds.
Ingredients
1 box of Angel Food Cake mix
1 can (21 oz) of blueberry pie filling
Whipped Topping (Clara likes to make real whipped cream!  Ask your mom if she can make some! If not, there's fun whipped topping you can get in cans to spray, too!)
Blueberries (optional)
Instructions
Preheat oven to 350. Mix the Angel Food Cake mix with the can of blueberry pie filling and pour into a 13x9 inch pan.
Bake for about 30 minutes. The top will brown quickly, but the cake is not done until a knife inserted into the center comes out dry.
Top with whipped-topping and blueberries, if desired.