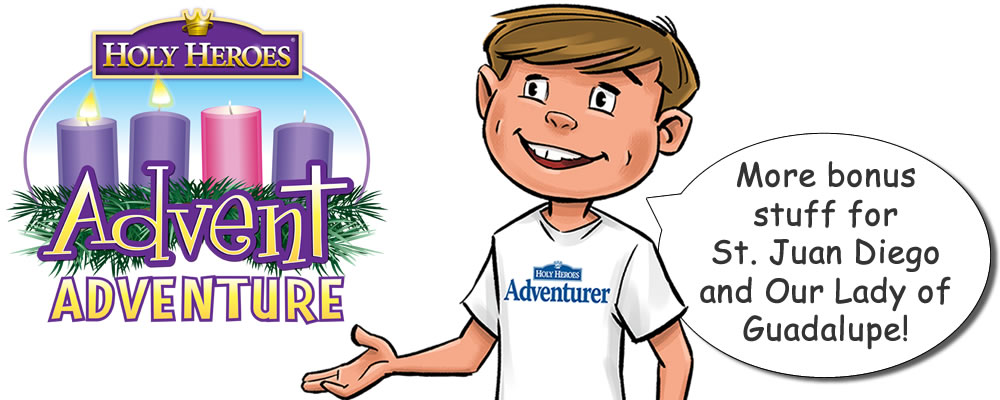 We've almost reached Our Lady of Guadalupe Day, and St Lucy's feast day is soon. Lots of fun now with only two weeks until Christmas Eve!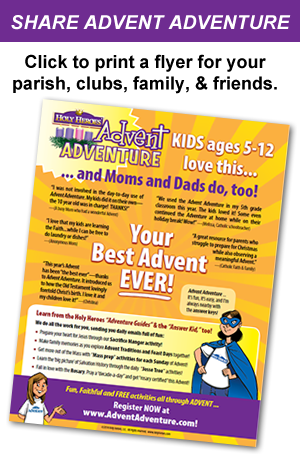 Don't forget to scroll all the way down today; we have a fun little quiz to test what you know about Moses after you watch today's video!
ACT NOW BEFORE IT'S TOO LATE:
In honor of Our Lady of Guadalupe, you can still get the FREE Glory Stories CD (you pay just shipping and handling). But this deal will end soon!
We hope your children have enjoyed listening to the "webisodes" of St Juan Diego. They'll also love the other story on that CD: "Let the Children Come to Me!" which tells the true story of Blessed Imelda's miraculous First Communion.
A Request:
We offer our "Adventures" and our Mass Prep videos, quizzes, and coloring pages free of charge around the world. And, as you know, we have a lot of other super-special and free deals from time to time.
We do this to help families pass along the joy of the Faith to their children.
While we offer these products and services free of charge, they are actually quite expensive for us to provide. To help cover the costs, could you please:
Consider purchasing gifts from us this Christmas? You can see our online catalog here or shop by age using the below links or browse our full store using the links up at the top of the page.
You are under no obligation to purchase or donate, of course—this really is a gift from our family to yours. We hope you find what we offer valuable and beneficial to your family.
Shop our Recommendations by Age
Just click these buttons to download and print today's activity pages:
More Downloads (mostly stuff for Mom and Dad):


Pray the Angelus
Margaret leads today
Fresh Flowers in Winter
Part 3 of The Story of St Juan Diego & Our Lady of Guadalupe
(excerpted from
Glory Stores volume 1