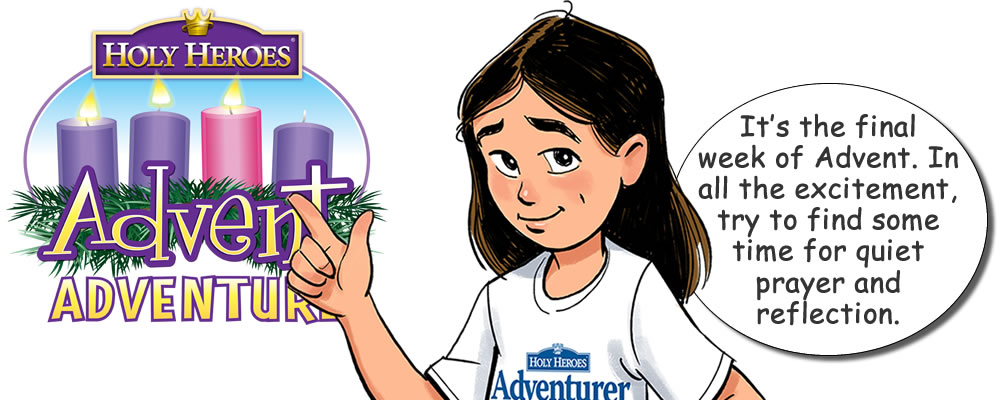 Today's Jesse Tree video is about a prophet that you may not have heard much about, the prophet Elisha. He followed Elijah and the story about him and Na'aman that we recount in the video is very important to all of us.
You see, we often come to God and in our pride want to do "big things" or have Him ask us to do "big things."
So when we are asked to do little things...well, we find that a bit "below us." But we don't see that even little things, with great love simply because God is asking us to do them, is what we need to do here on earth—for our own benefit.
St Therese, the Little Flower, knew this, and she is now called a "Doctor of the Church."
The last week of Advent is always a very busy week for families. Excitement is high, lots of last minute preparations need to be made, so it's fun to have lots of things to fill little hands and hearts while you are trying to get everything done.
We hope you can find some time for quiet prayer and reflection.
Here are TWO WAYS we hope we can help:

1. MORE PRINTABLES: We have downloadable coloring books, which you can have handy for the children—and they are not only fun to color, but also can open up some nice discussions in the evenings when they can show you what they've done!
Hey: you can even have them to print off when guests arrive!
2. AUDIO DOWNLOADS: We also have MP3 downloads of our products if you'd like to get some time for yourself while the kids listen—and you don't have time for the CD to arrive in the mail! We have our Glory Stories and Holy Heroes audios there, including the rosary CDs.
Shop our Recommendations by Age
Just click these buttons to download and print today's activity pages:
More Downloads (mostly stuff for Mom and Dad):


Pray the Angelus
Virginia leads today