At 16 weeks old – almost 4 months! – your baby just keeps growing and growing! He is almost half a foot long, and weighs almost half a pound!
We've learned that each person is special from the very moment that he or she is created.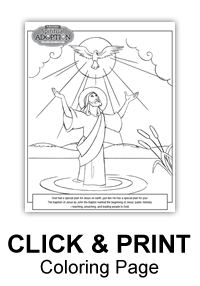 Not only does each one of us get a unique body, with unique DNA, which grows inside our mothers' wombs – a body that is different from everyone else who has ever been and who ever will be on earth! – but God also gives each of us a soul! God made that soul especially for you – so that you could be complete for a special purpose on earth that no one else can fulfill.
In the Bible, we read about God telling Jeremiah, "Before I formed you in the womb, I knew you. Before you were born, I dedicated you, a prophet to the nations I appointed you" (Jer 1:5).
Just as God had planned Jeremiah's special role, He has planned one for each and every one of us from the very beginning of time! Your parents have a special role, you have a special role, and even the little unborn baby you've adopted has a special role. You must pray, though, and listen to God to discover what His very special plan for you is.  And you can pray for your spiritually adopted baby, too.  I wonder what God's plans for that baby are?
DEVELOPMENT JOURNAL
Learn about your own unborn journey by talking to your parents and family! Download your printable journal pages here.
SPIRITUAL ADOPTION PRAYER
You can download and print Fulton Sheen's spiritual adoption prayer here, which you should pray every day. The download also includes an extra prayer from Pope Saint John Paul II!
Visit previous Spiritual Adoption activity pages by clicking the week number.