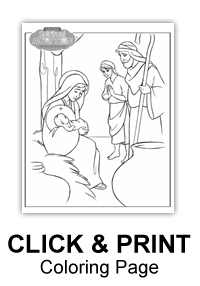 Your baby is ready to be born at any time! Watch the video so you can see Nurse Therese and the Holy Heroes Adventure Guides explain to you what your baby looks like now!
Baby Pictures Activity
Ask your parents if they have any ultrasound pictures of you or photos of you as a newborn.  Ask your mom if you can take some of the pictures and make a scrap book, collage, put them in a photo album, or just put them in some picture frames. Ask your parents if they remember what was happening when each of the photos were taken.  Maybe write a sentence or two by each photo or behind each photo so you and your family can look at the photos and remember what happened.
Note to Parents: This craft can really be as "laid-back" or involved as you want it to be. A toddler might be happy with 5 pictures (that you have other copies of!) taped to a decorated piece of paper, while an older child might want to make a small photo album or scrapbook (there are some inexpensive ones out there or you can make one yourselves).  The point of the craft is for the child to learn more about his/her birth and the births of siblings. Hopefully, you'll have fun reminiscing too!
DEVELOPMENT JOURNAL
Learn about your own unborn journey by talking to your parents and family! Download your printable journal pages here.
SPIRITUAL ADOPTION PRAYER
You can download and print Fulton Sheen's spiritual adoption prayer here, which you should pray every day. The download also includes an extra prayer from Pope Saint John Paul II!
Visit previous Spiritual Adoption activity pages by clicking the week number.