Holy Heroes GiftBox

Grandparents, Godparents, catechists, and parents have asked for this...and it's available starting now!
A monthly subscription to great Catholic products to inspire a child's imagination for Christ—all year long!
EXAMPLES OF WHAT YOU'LL GET
Holy Heroes, Glory Stories and Altar Gang

audio CDs

make car rides into faith-building time.

Mass Prep materials

for Sunday Masses all year long.
Age-appropriate

games, books, and other materials

bring the Faith into the home every month—in a way that sticks!

Prayer cards, bookmarks, and other surprises

.
And we didn't forget about

Mom & Dad

—we'll include surprises to nourish your Faith, too, from time-to-time through the year
MORE INFORMATION
Both are sent in 12 monthly packages. The first package will arrive by Christmas 2017.
Over the year FOR BOTH OPTIONS the child will receive:
Glory Stories volume 1 - 8 (8 CDs)
Altar Gang episodes 1 - 3 (3 CDs)
Skiff & AJ's Fantastic Voyage DVD
Holy Heroes Best-Loved Catholic Prayers & Prayers of the Mass missalette
"I'm a Catholic" card to carry with them
Lots of prayer cards, bookmarks, and other surprises throughout the year
PLUS: some surprises selected just for Mom & Dad and included in the package from time-to-time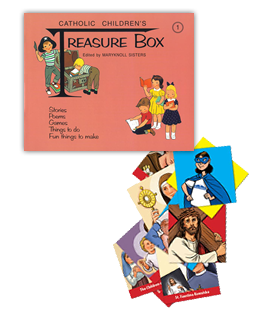 OPTION A includes in addition:
Catholic Treasure Box Books 1 through 10
All 4 of the Holy Heroes "Life of Jesus" coloring books
Holy Heroes Matching Game
Holy Heroes Songs of Faith & Joy CD
For Advent: the Advent Sacrifice Manger
Gospel coloring pages for each Sunday Mass throughout the year
OPTION B includes in addition:
The Picture Bible
Holy Heroes Works of Mercy full-color illustrated book
Lenten Adventure Activity Books 1 & 2
Stations of the Cross Prayer booklet
A Holy Water bottle
A rosary ring
A Miraculous Medal
Advent Adventure Activity Book
"Holy Heroes Mass Quiz" for every Sunday Mass throughout the year
Both options include more than $350 worth of products!
Both options cost $20 per month plus $5.95 S&H, payable in either of two ways:
$25.95 per month automatically withdrawn via credit card
OR: Pay for the whole year in advance--it's like getting one box FREE! Pay $285 in a single installment (save over $26 over monthly installment plan)
The Holy Heroes subscription is currently only available to U.S. shipping addresses.
Any order for international shipping will be refunded.